86 inch Smart Finished LCD TV Monitor 3840*2160 resolution Android 5.0 System HDMI Interface
1. Product Function
Audio and Video
Function
USB multimedia file playback function (supports multiple file
formats)
Other Function
1.Android 5.1 embedded system;
2.Sleep timing, shutdown memory channel function, multiple signal
source selection;
3.Support dual systems: seamlessly switch between Android and
Windows systems;
4.Support remote control function and F1-F12 function keys
commonly used in computer keyboards and shortcut keys such as
Alt+F4, Alt+Tab, Space, Enter, windows, etc., can realize PPT up and
down page turning, one key lock/unlock touches the whole machine
one key energy saving, etc. Features;
5.Support wireless WiFi, wired LAN, browse the web and play online
video;
6.Support one-button child lock, U disk lock function, automatically
identify the signal source and switch channels;
7.Support remote control instead of keyboard, remote control unit
power on, mute function;
8.Support for analog TV signals, digital TV (DTMB), USB (3.0 and
2.0), HDMI, CVBS input and coaxial output;
2. Integrated Machine Feature
Cover and outlook:Aluminum ultra-thin ultra-narrow alloy face frame corner block design, lower speaker port.
Integrated Machine Outline size:1962.8L*1133.4W*103.1H(mm)
Maximum power consumption≤280W(not including OPS,Subject to the actual product)
Standby power ≤0.5W
3. System Parameter
Processor : Cortex A53 dual-core 1.3GHz
System : Android 5.1 embedded system
RAM : DDR3 1G
Storage Space : 4GB (SD card maximum expansion 128G)
4. Display Parameter
Monitor Size : 86 inch(16:9)
Monitor Type : LED Liquid Crystal Panel
Active area size : 1896(H)×1067(V)mm
Resolution : 3840(H)×2160(V)(UHD)
Display Color : 10bit,1.07B
Refresh Rate : 60HZ
Brightness : 350cd/m2
Contrast Ratio : 4000:1
View Angle : 178°
Monitor Protection : 4mm Fully tempered high explosion-proof glass
5.Mechanical Drawing: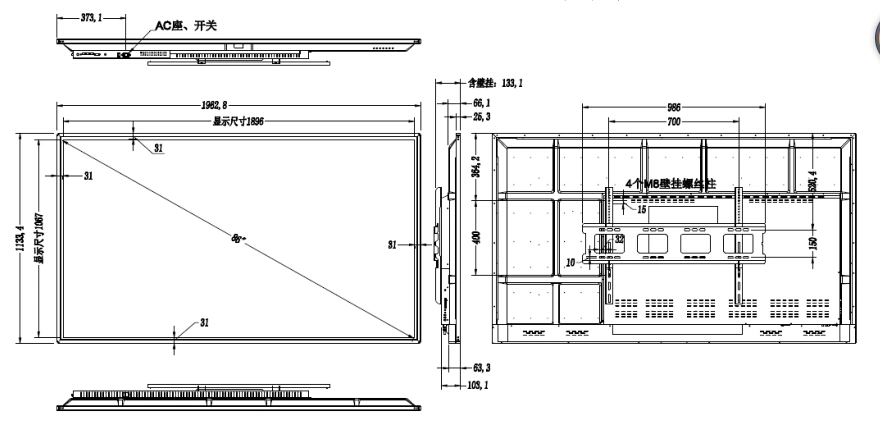 So If you are interested in our this Smart 86 inch Finished TV Monitor,please feel free to contact with us.