Nucleic Acid Test Filling Cooling Wrapping Date Printer Assembly Line
Material: vaseline Petroleum Jelly
Volume : 15ml
Speed:10000BPH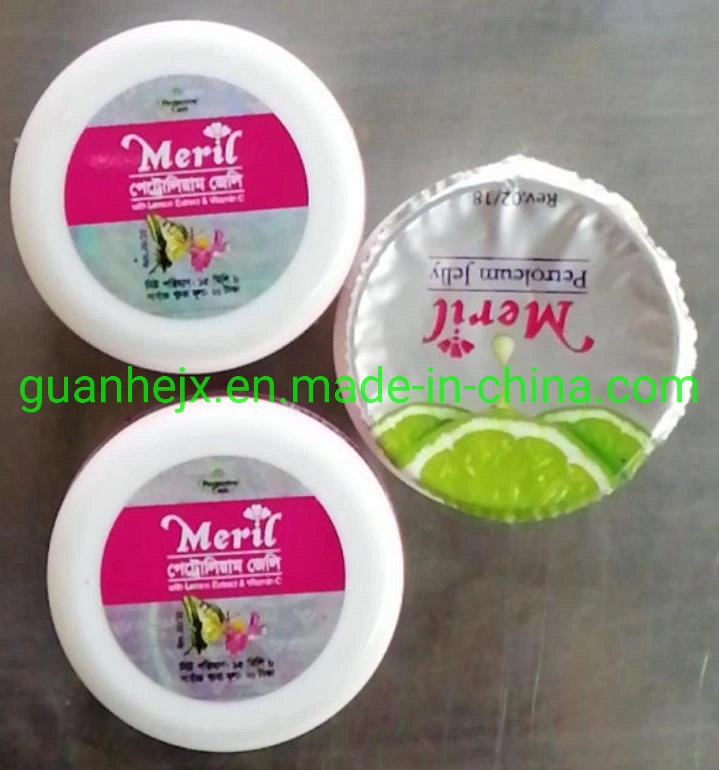 1 Auto bottle lifting-unscrambling system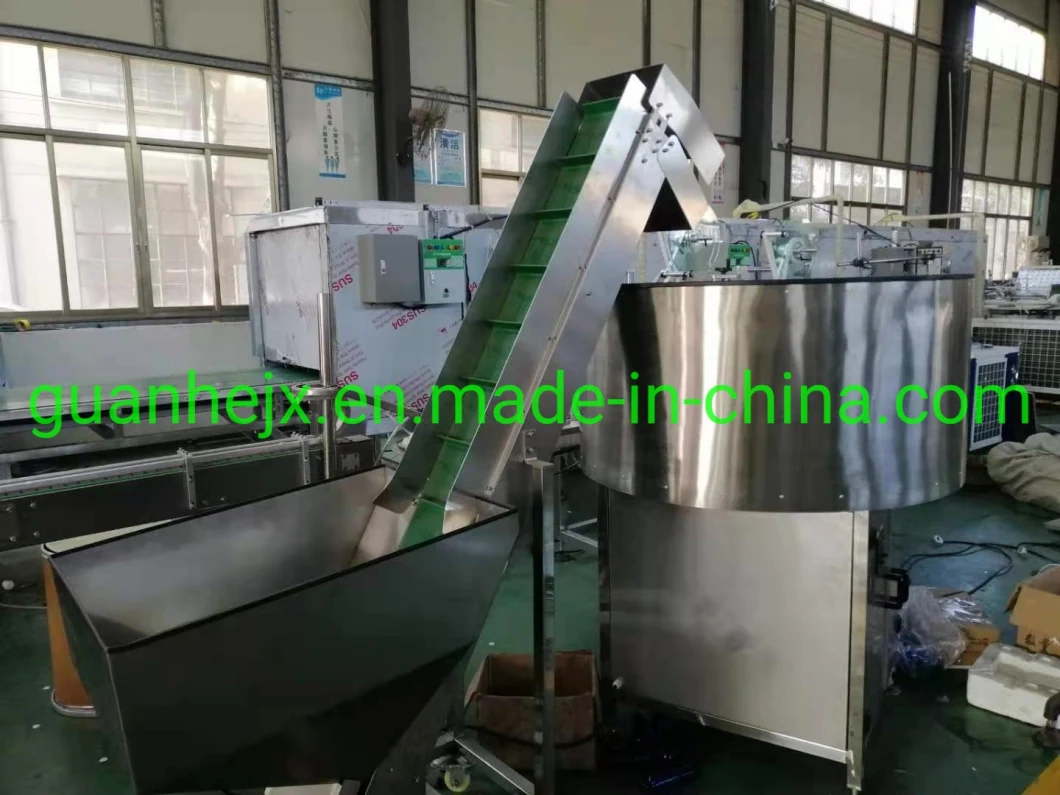 Introduction:
1
It adopts centrifugal principle to do bottle-unscrambling-feeding, only needing labor to pour plastic round bottles into lifter, bottles will auto unscramble bottles and orderly conveyed into buffer conveying belt, then bottles will go to separating area, & orderly be grouped & into filling area. Its high efficiency lessen labor tense to large extent, thus achieving full automation.
2
Equipped with bottle-detecting devices on the unscrambler & bottle-conveying belt, it can ensure normal & smooth production.
3
Bottle lifting & unscrambling speed are separately controlled, easy to meet the production capacity needs.
4
Mainly made of top-quality SUS304, delicate & durable.
Technical parameters:
| | | | |
| --- | --- | --- | --- |
| Voltage | 220v 50hz | Weight | 250kg |
| Power | 2.5kw | Cap/bottle max size | Custom made |
| Speed | 180-200BPM | Material | SUS304 |
2 Auto bottom labeling machine with buffer conveyor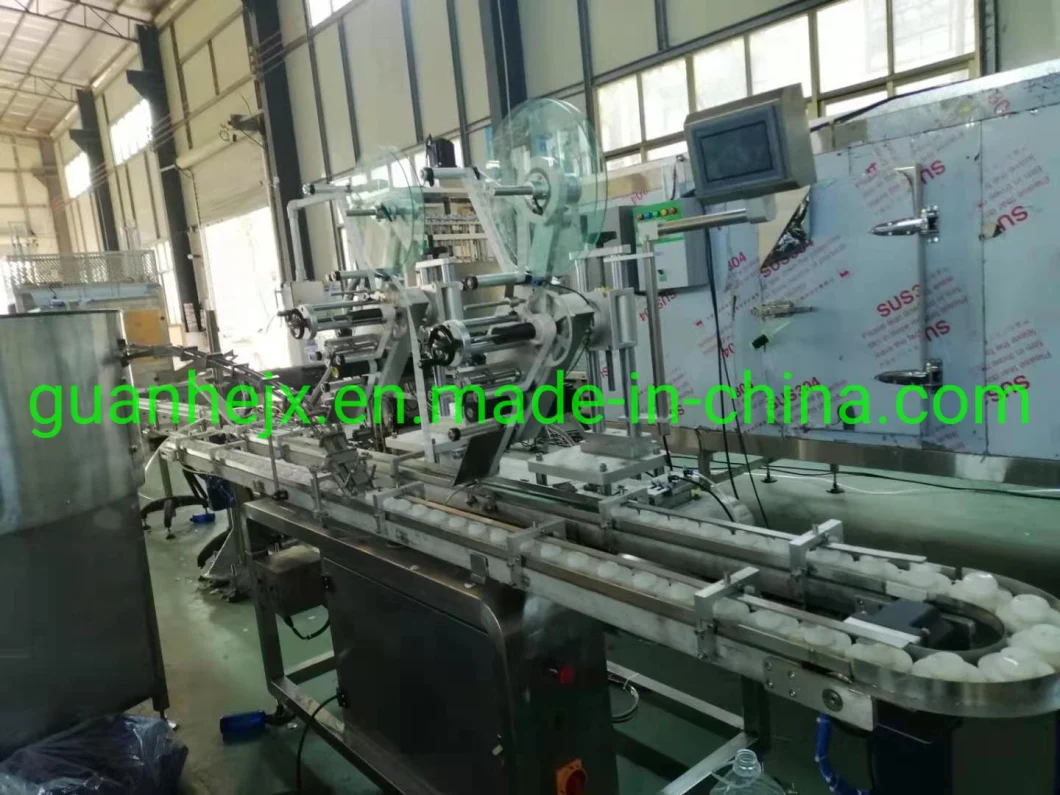 Introduction:
1
This high-speed rotary surface labeling machine is customized with 2-labeling stations for auto continuous and highly-efficient top surface labeling without machine stops.
2
Designed with buffer conveying belt to match the current jelly lines 15ml, it's suitable for jelly cap top surface online labeling after cap-hanging to the cap molds, with cap mold running, it's much more stable and reliable.
Features:
1
Designed with rotary turntable for container transferring & labeling positioning, with servo motor to drive, the labeling speed can reach 45m/min to meet high-speed capacity, stable & durable, mono
-
block design makes it very easy to combine the line & easy for line installing connection
With 2 labeling stations for auto labeling system production switching if there is no labels left, which saves time and no influence to auto online high-speed production.
2
This machine with clutch design,make the label tightening and tension more steady, which could assure the labeling accuracy.
3
This machine with PLC & Color touch screen system, which is east to operate & maintain.
Machine is constructed using stainless steel 304 and aluminum alloy for rust free performance and meeting FDA standards.
Main Parameters:
Model: GHAL-HP130
Roller inner diameter: ¢76mm
Max label width:130mm
Labeling speed(Max):45m/min
Labeling length: 10-300mm
Labeling accuracy: +1mm for top labeling
Max bottle diameter: 110mm
Roller out diameter:¢350mm
Voltage: 220V 50/60HZ 1P
Power: 2KW
Machine dimension:3000*1200*1700mm
Gross weight: 500KG
Main parts brands:
| | | | |
| --- | --- | --- | --- |
| PLC | Germany Siemens | servo motor | Taiwan Delta |
| Frequency converter | Taiwan Delta | Convoying motor | Shanghai OTG |
| Object-detect sensor | Germany Leuze | Conveying belt | POM chain belt |
| Label-detect sensor | Germany Sick | | |
3 Auto bottle-feeding machine with buffer conveying system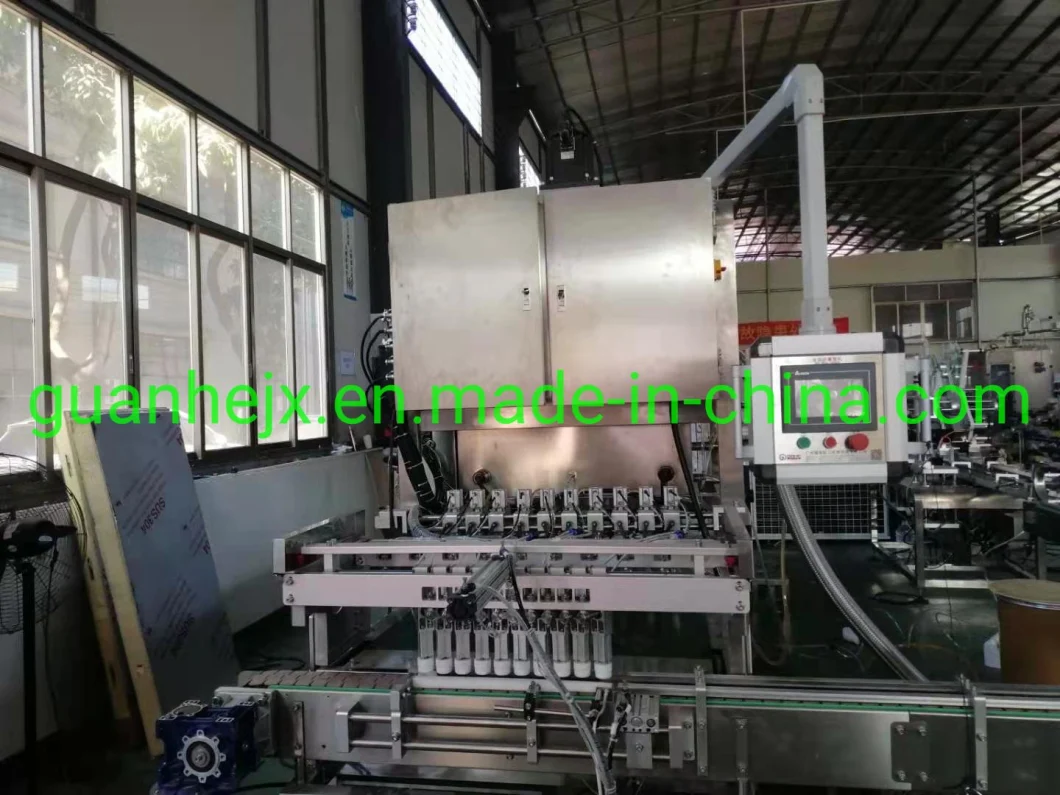 Introduction:
When bottles come to bottle-feeding area, the bottle-pushing cylinder system will take the preset positioned 10 bottles to filling area to do auto continuous filling.
The frame are made by stainless steel SUS304, delicate & durable.
Power: 220V 50HZ 1P
1.2KW
Air pressure: 0.5-0.7Mpa
4 Auto 10 nozzles hot filling machine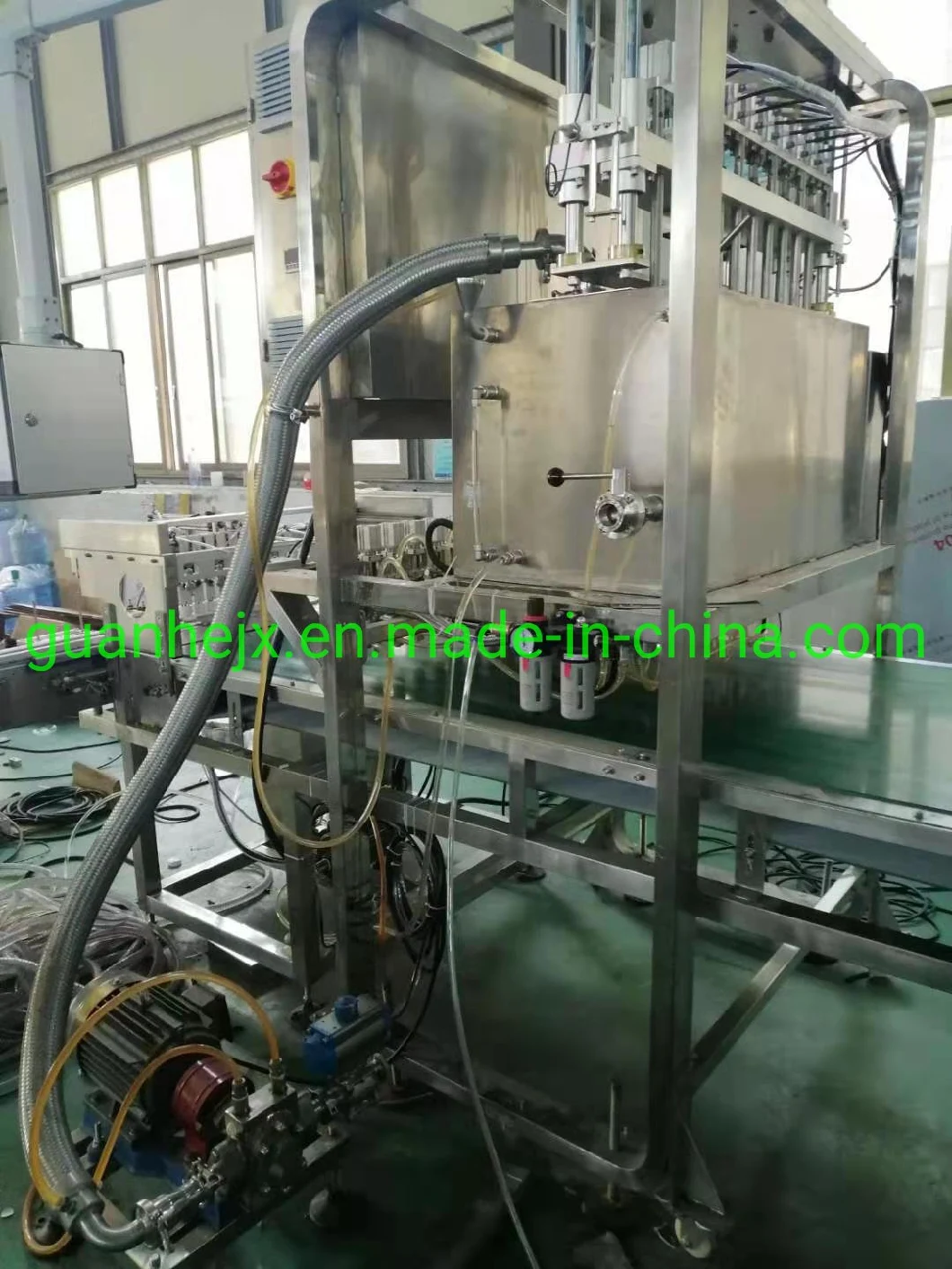 This automatic heating filling machine was developed by our team import foreign advanced technology on the base of hot heating production market requirement. The whole machine is made of stainless steel 304. Designed with various heads and specification accordance to customer
'
s demands. It is wildly used for chemical, pharmaceutical, food, cosmetic and other industries production.
Feature:
By adopting unique heated filling system, filling precision is high. The whole structure is easy disassemble for cleaning and sterilization.

Touch liquid material part with temperature protection function.

Filling nozzles unique patent design for suitable for different high bottle.

For different viscous density liquid filling, high filling accuracy.

Imported brand PLC control system, frequency inverter for adjusting sped.

Simple operation, not only can independent adjusting 1 filling nozzle, but also can adjusting all filling nozzles at one time.

The filling nozzles with anti-leaking function design.

Meet GMP standard.
Main parameter:
| | | | |
| --- | --- | --- | --- |
| Filling nozzles | 10 | Air compressor | 0.4~0.6MPa |
| Fillign scope | 15ml | voltage | 380V 50/60Hz 3P |
| Filling speed | 150~200BPM | powder | 3.5kw |
| Filling accuracy | ≤±1% | noise | ≤50dB |
| Size | Depend on product | Weight | 600kg |
Electric component:
PLC

Taiwan Delta

Pneumatic components

Taiwan AirTAC

Touch screen

Taiwan Weinview

Conveying motor

French Schneider /




Germany Siemens

servo motor

Taiwan Delta

Photoelectricity

Japan Keyence

Frequency converter

Taiwan Delta /




French Schneider

cylinder

Taiwan AirTAC

Low-voltage electricals

French Schneider
6 Cooling tunnel & 3m buffer conveying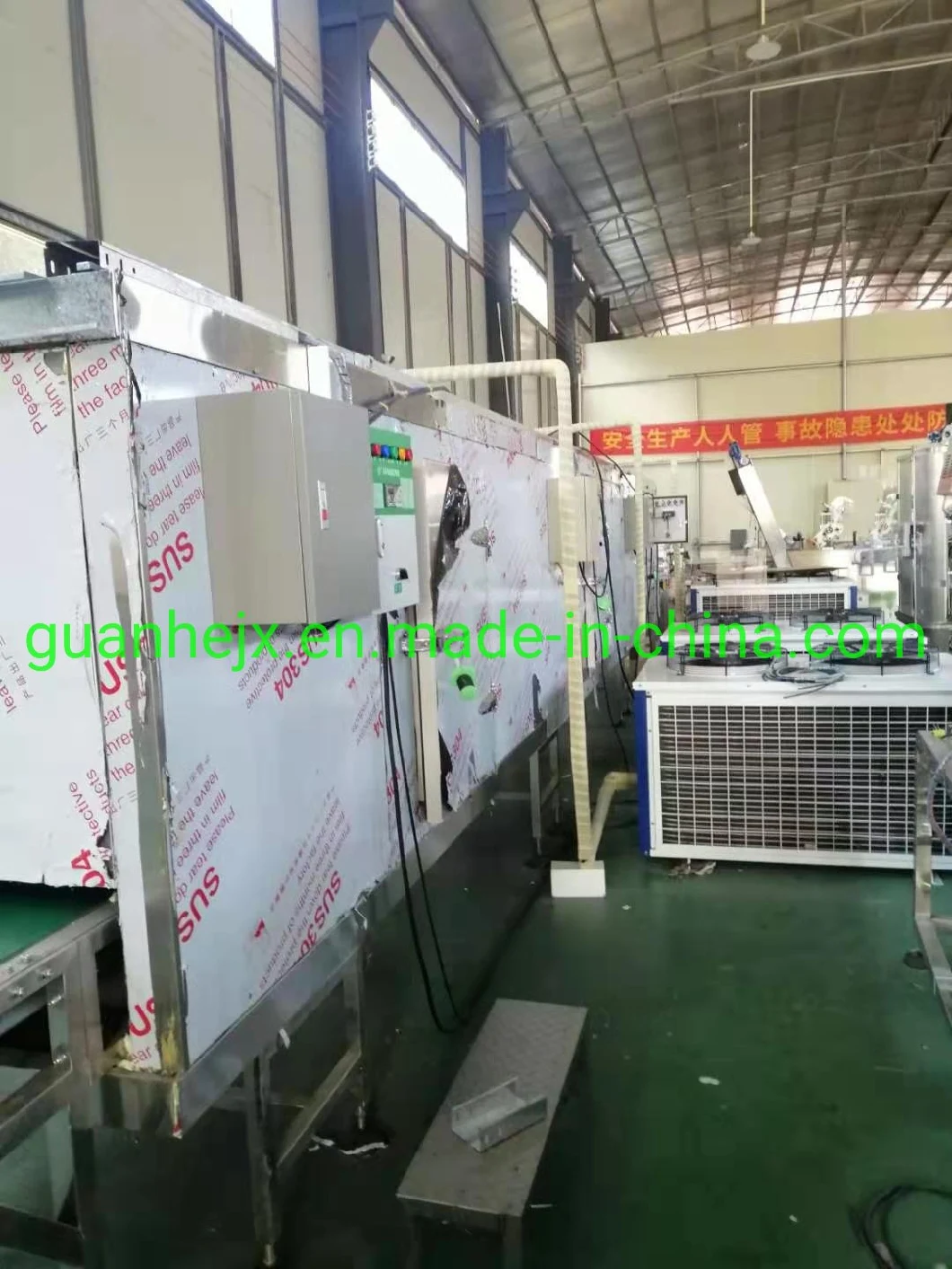 This cooler is especially customized for the cooling of cosmetics and medicines which need cooling packing after hot-filling, especially for simonize, Vaseline, balm and so on.
Characteristics:
1
The filled bottles will go into heat-persevering cooling tunnel with the movement of main host conveying belt to cool down for further
packaging.
2
The closed heat-insulating cooling tunnel is made of top-quality SUS304 appearance, & with special heat-persevering wall, thus enhancing cooling effect a lot, totally in accordance with cosmetics sanitation, also practical and
delicate.
3
Convoying motor adopts the variable frequency
control.
4
After hot-filling, the filled bottles will get into a cooling tunnel with even-speed conveyor where refrigeration cools down & consolidate the liquid via high strength cooling unit without any leakage during
moving.
5
The cooling time can be set based on actual material cooling
technology.
6
We'll design the tunnel about 16m in length, inner cycling cooling, so it has great advantages of space & energy-saving, fast cooling, and easy, convenient
operation.
Main parameters:
Cooling set power: 30KW (40HP), 1st set 20HP, 2nd set 10HP & 3rd set 10HP Passing time in the tunnel: 15ml jars around 8-10mins
Material: frame & appearance SUS304, with organic-glass hood side for easier
V
iew Dimension around: 12m*1.0m*1.68m(LWH),
E
ach cooling unit is 3m * 3sets + 3m buffer conveying belt for natural
cooling
Voltage:380V
50HZ
3P
Gross
weight:1400kg
7 Auto bottle-exit machine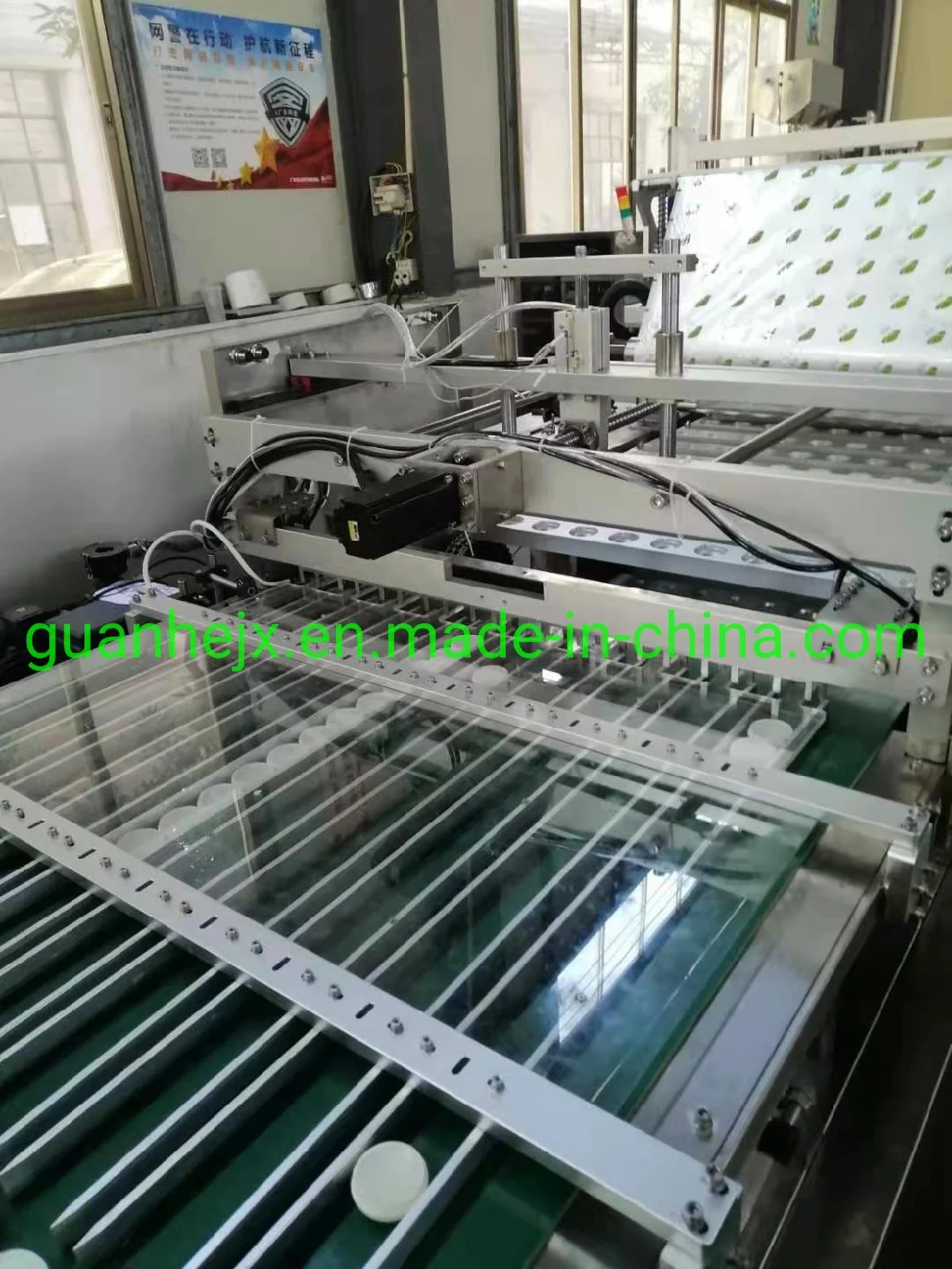 Introduction:
After cooling, the boxes on the buffering belt will be put into the molds of capping sealing machines by manipulator system for the following interval film sealing & cap screwing part.
The interlock control system will be practical and humanized for easier operation
and maintain. The frame are made by stainless steel SUS304, delicate & durable.
Power: 220V 50HZ 1P
1.2KW
Air pressure: 0.5-0.7Mpa
8 Auto 10-head sealing-capping mono block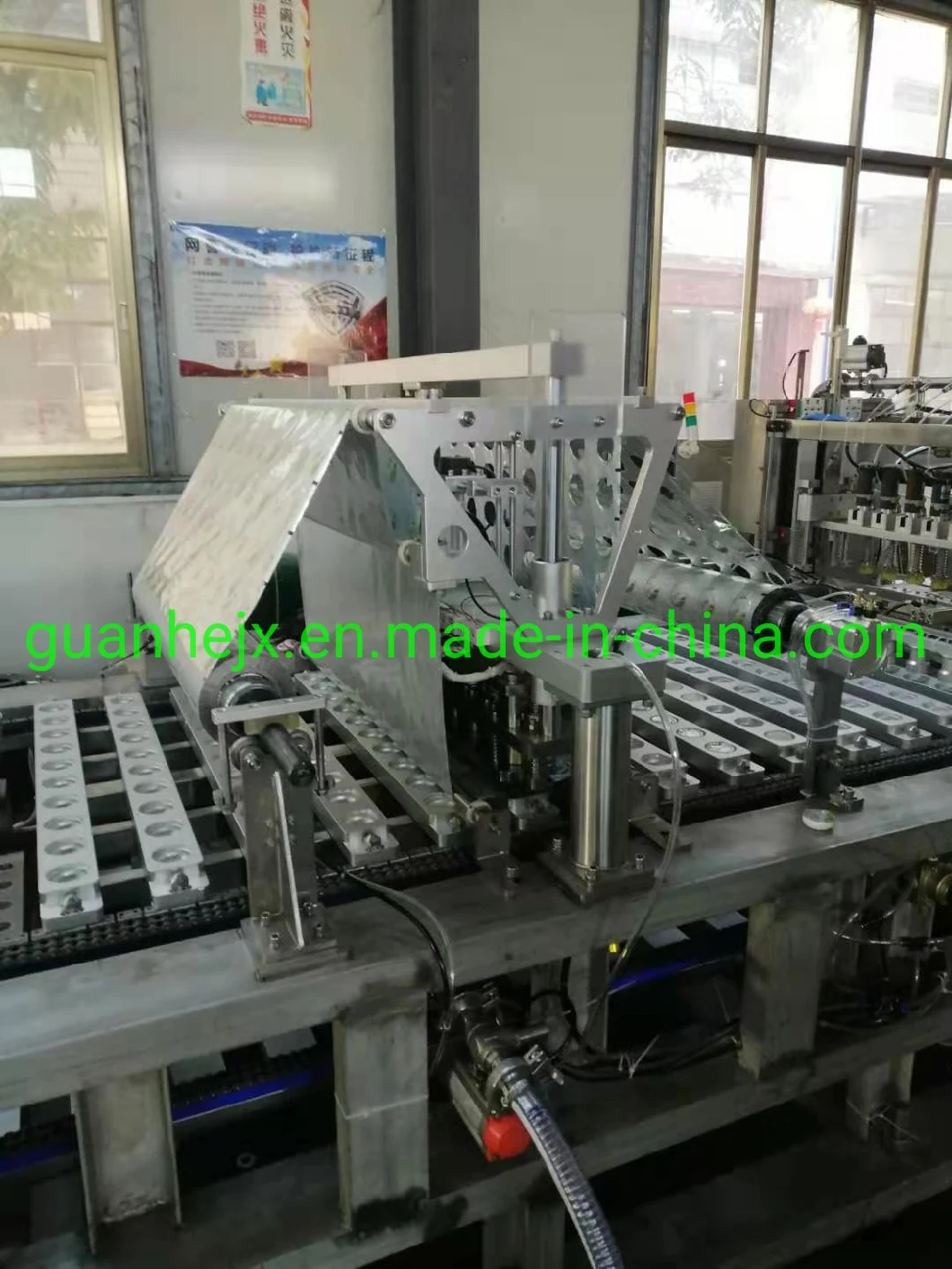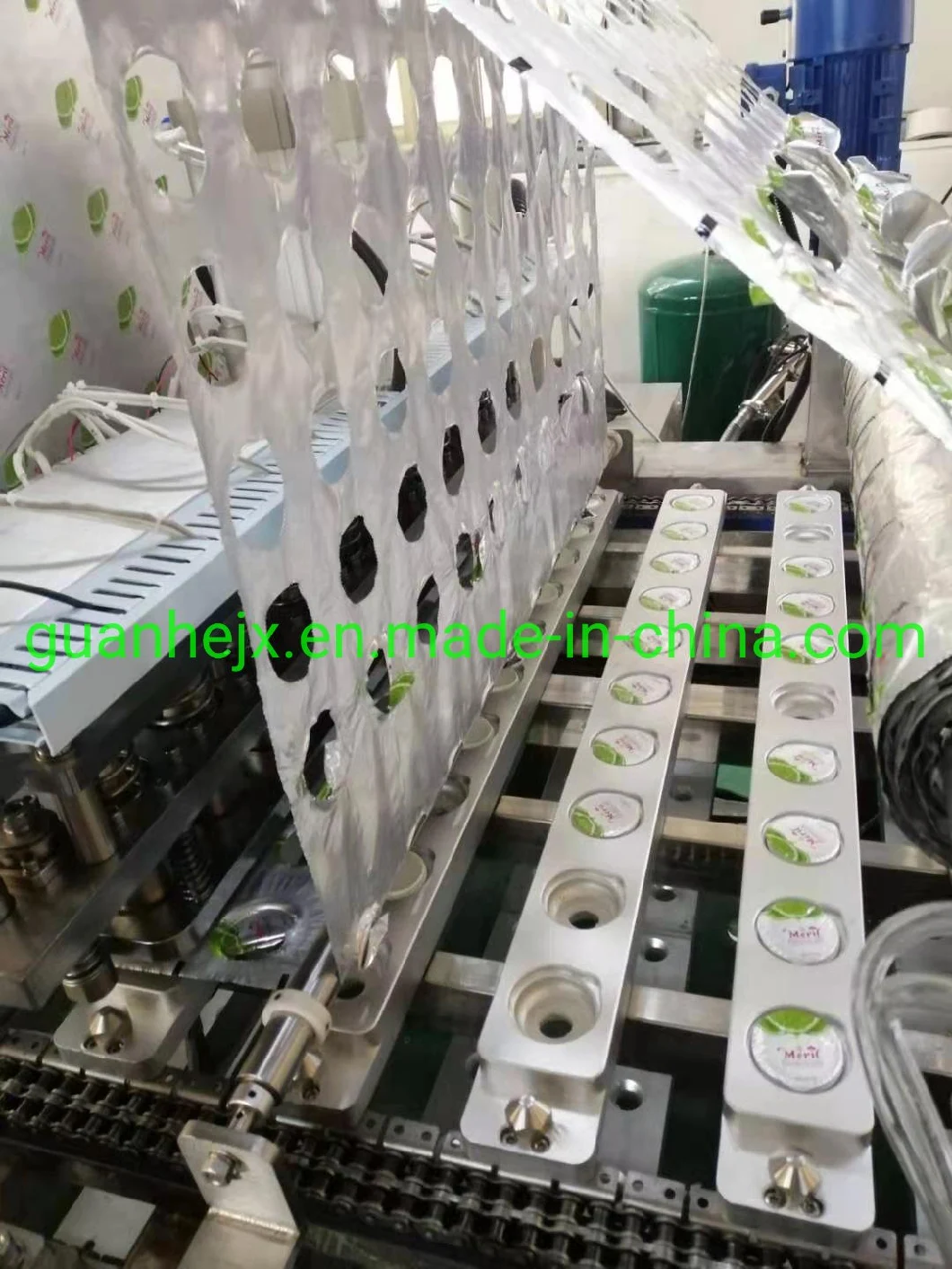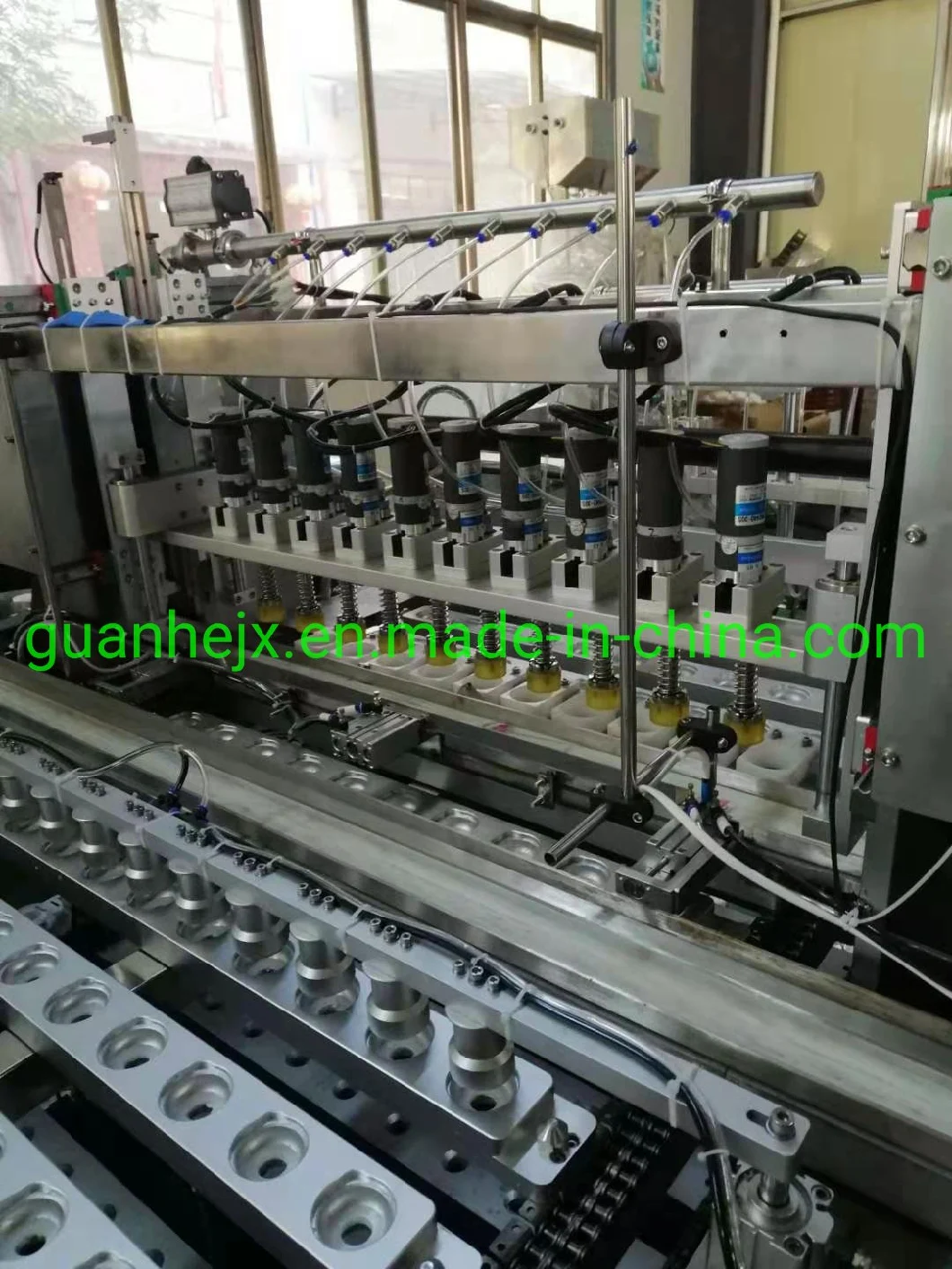 Introduction:
Considering the capacity, bottles & production process, the whole system is
c
ustomized & designed to run with bottle molds for the interval conveying.
The whole filling line needs 2 labors to feed caps, film in time & monitor the machines; it can auto finish cap-lifting-unscrambling, film-cutting-sealing, cap-infeed and capping & bottle exiting onto the next conveying belt.
Main features:
1
The whole line is controlled with PLC & touch screen system, very easy to
prepare
& maintain.
2
Main parts all adopt world-famous brands, like Schneider, Siemens, Delta, Airtac, it has the incomparable advantages of low failure rate, stable and reliable performance as well as the surprising longevity.
3
Adopting roll film to do bottle positioned film hot sealing; film pulling can be set freely to meet different film sealing effect; Sealing temp can be set from 50 to 200 centi
degree based on film & bottle material; Hot sealing device, tight sealing & trimming, with absolutely reliable sealing quality.
4
Film cutting knifes are especially designed for durable longevity & easier operation, maintenance.
5
Adopting high-speed unscrambler to arrange caps, equipped with lifter for highly working efficiency.
6
It adopts cap molds to do accurate cap-hanging, then bottle molds are conveyed into capping system, the capping manipulators will do cap-pick-place and capping, very accurately & stably.
7
With cap molds conveying belt for cap molds transferring to meet continuous running, we equip 60pcs cap molds for each size, easy to do production switch, stable and durable.
8
No sealing/capping without bottles; frequency converter, auto counting, with high degree of automation.
9
Designed with vacuum generators for the vacuum consumption, which r driven by separate attached air compressor system 11kw, which can ensure reliable vacuum & capping & bottle exit effect, also better machine pipes & wiring layout, easier for operation and maintenance.
10
Mainly made of top-quality SUS304 & and aluminum alloy for rust free, delicate & durable;
11
Bolts and nut s are stainless steel or suitable material without carbon steel.
Technical parameters:
| | | | |
| --- | --- | --- | --- |
| Capping head | 10 heads | Sealing head | 10 heads |
| speed | 170-200BPM | Suitable containers | 15ml |
| air pressure | 0.5-0.7Mpa | rated power | 12kw |
| dimension | 2000*1050*1800mm | voltage | AC380V 50/60HZ 3P |



Main parts brands:
| | | | |
| --- | --- | --- | --- |
| PLC | Taiwan Delta | Cylinder | Taiwan Airtac |
| Touch screen | Tainwan Weinview | Photoelectricity | Japan Kenyence |
| Conveying motor | Germany Siemens | Inverter | Taiwan Delta |
| Low-voltage electricals | French Schneider | Temp controller | Japan Omron |
Our factory
'
s profile: